The hostel environment at SDMIT nurtures the idea of 'A home away from home'. There are separate hostel blocks for boys and girls aimed at providing a homely, conducive and progressive environment. This is achieved by facilitating students in their studies, co-curricular and extra-curricular activities in a healthy and caring atmosphere. Herein at SDMIT, 70% of our students stay at Hostels, in part due to the excellent infrastructure and environment provided by the college. This leads to a unique inclusive environment wherein students from across regions, religions, culture, language, get together and work towards a common goal of academic and personal excellence. Cultural events, sports activities, personality development programs and social empowerment activities are exclusively conducted for hostel students on a regular basis. All hostel blocks are well connected with 1 Gbps free Wi-Fi network. Apart from this, health facility is provided 24*7, with a dedicated doctor available on call all the times.
SDMIT has two boys' hostel blocks. It is a well-furnished accommodation facility with 27 two bedded, 135 three bedded and 151 four bedded rooms accommodating a total of 1063 students. It is located inside the college campus.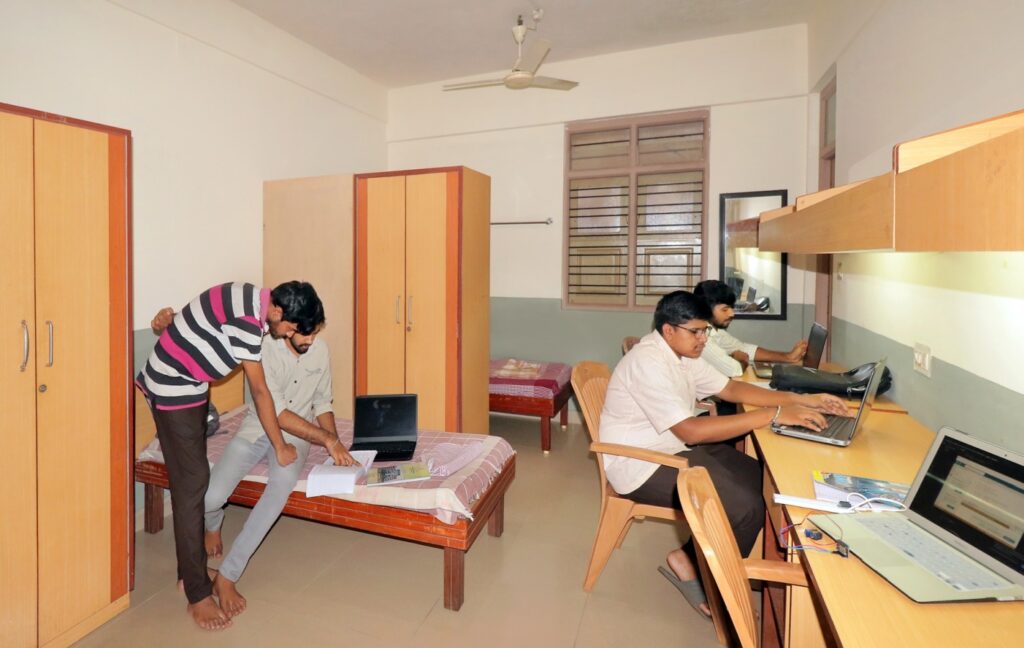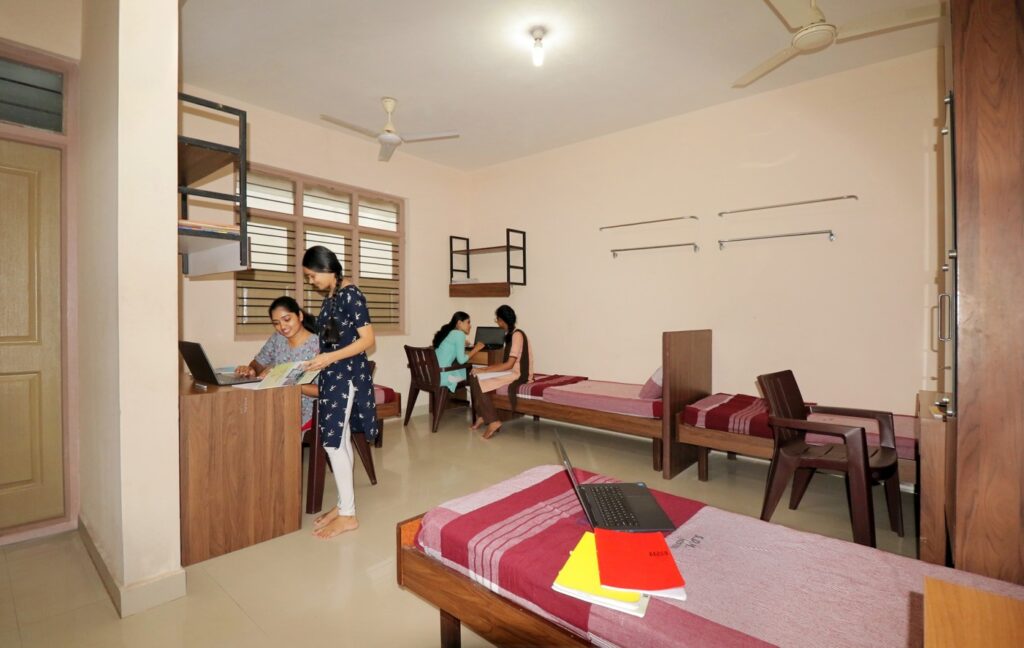 SDMIT has two girls' hostel blocks. It is one of a kind homely and hygienic accommodation facility that consists of 24 two bedded, 139 three bedded and 145 four bedded rooms accommodating a total of 1045 students. It is located inside the college campus.
At SDMIT Mess, we firmly believe that food is a means of not only taking care of body, but also mind, and good health requires healthy food. Physical and mental health of our students is the topmost priority for us."
Hostel is equipped with a pure vegetarian mess providing both South Indian and North Indian food catering to the needs of students from all across the country. Utmost care of hygiene is taken along with all standard checks being ensured while food is prepared in the hostels. A balanced diet, checked and approved by qualified dieticians is provided and a special committee inspects the food every day to check quality. There is a separate section for bakery products. Quality checks are also validated externally through annual inspections by Food Inspectors from the Health Department. The vegetables used are organic and of the highest quality. The menu takes consideration of the needs of students from all parts of India, and thus includes items like chapati, roti and kurma. A unique feature is the inclusion of fruit, salads and desserts in the menu
Other Amenities in hostels
Health Care
Mentorship program
Purified Drinking water
Hot water supply
Generators to provide backup power supply for all hostel blocks
Television Hall
Laundry
Round the clock security
Ambulance Service for emergency and referral services
Indoor Gaming facility
Teaching staff regularly visit hostel blocks to motivate and facilitate students in their studies. There is a strict code of conduct practiced at all Hostel blocks. Students wishing to stay in the Hostel will have to abide by the code of conduct.