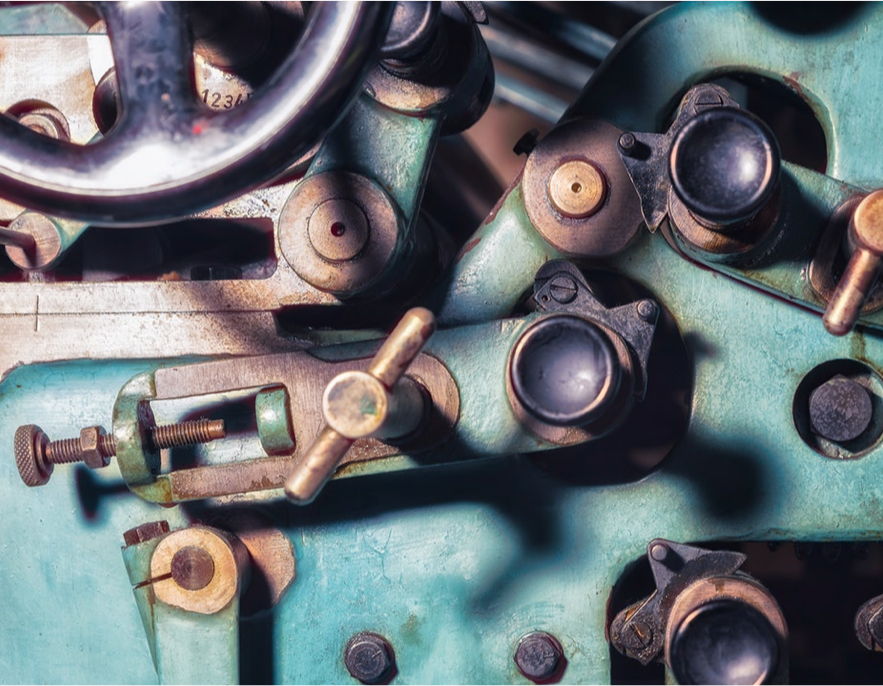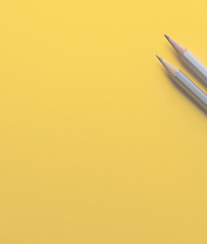 About
The department of Information Science and Engineering was founded in the year 2007. Infosys Campus Connect programme aids students towards professional orientation. The department has well-equipped laboratories and facilities. The latest hardware and software packages available for practical training help the students to gain adequate knowledge in-line with current trend. The department is actively engaged in providing rich exposure to students through a large numbers of value added activities.
Why Information Science Engg. at SDMIT?
A wide scope of employability skills ensured in the field of Artificial Intelligence, Machine Learning, Robotics, IOT
The department is furnished with a group of qualified, knowledgeable and experienced faculty
Well equipped laboratory with world class equipments updated with the latest technology
Alongside placement training, the pre placement training classes are conducted in general aptitude, technical aptitude, verbal and non verbal reasoning, communication and soft skills which inculcate the idea and environment of placement skills learning
The short term courses on Web/Mobile App development ,value added courses, entrepreneur skills are provided
The one to one mentoring program helps the student in personality development and studies
The best teaching learning methods like ICT tools, project based learning, activity based learning
The alumni interaction programme enables the students to become aware of IT industry and corporate work culture
Students are encouraged to publish the research paper on the projects implemented.
The hobby projects are encouraged for the students in the stream of WSN, Networking, Image Processing, Big data
The students are given orientation on competitive examinations GATE,CAT,TOEFL etc
Ms. Deekshitha Chowta had secured second rank in the VTU Examinations 2012

Mr.Charana and Ms.Raksha H Jain secured first place in Appathon ,App development competition at AIET Moodbidri on 14th October 2019

Mr. Dhanush Bhat had received "Best Student Award" ISTE Karnataka Section for the academic year 2017

Mr. Jesudas Lobo won the first prize in National level Technical fest "Back Track Coding" event held at SIT, Mangalore in 2013

The final year academic projects had been selected under KSCST(6),FOSS(1),VTU Financial Assistance for Innovative Projects(6)

Ms. Deeksha and Ms.Gagana won second place in VTU Intercollegiate Mangalore Zone throw ball tournament for girls held at SIT,Mangalore in 2019

Ms. Rakshitha M B ,Ms. Megha HR and Ms. Soujanya S Shetty secured fourth place in VTU Intercollegiate Rest of Bangalore Zone Kabbaddi tournament for girls held at VSMSRKIT, Nippani in 2019

Sannidhi Patel H.V and team got first prize in cricket in VTU Annual sports meet 2012
Big data Analytics
A six-day faculty development program on "Big Data Analytics with Hadoop" in association with National Institute of Technology, Warangal sponsored by Ministry of Electronics and Information Technology (MeitY), GoI from 7th – 12th January 2019. The resource persons of the FDP were Dr. R.B.V Subramanyam, Professor & Head of Dept. of CSE, NITW, Prof. Radhakrishna, Dept. of CSE, NITW, Mr. Phanibhushan, ADRIN, Dept. of Aerospace, Hyderabad, Mr. Josaih Samuel, IBM Bangalore. There were 41 participants from various parts of nation. The FDP trained the participants with the Bigdata and Hadoop concepts, MongoDB with hands-on sessions.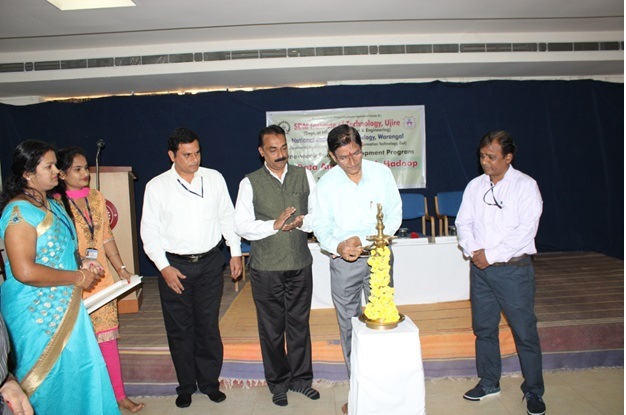 International Conference on Recent Trends in Technology (ICRTT -2K18)
International Conference on Recent Trends in Technology (ICRTT-2K18) was organized on 18th May, 2018. The conference was inaugurated by Dr. Chidananda Gowda, former Vice Chancellor, Kuvempu University in the presence of Dr. D. VeerendraHeggade, Dharmadhikari, Shri KshethraDharmastala, Prof. MahadevaPrasanna, Professor & Dean (R&D), IIT, Dharwad, Dr. B Yashovarma, Secretary, S.D.M. Educational Society. The presented papers had been published in the well-known journals IJCA and IJERT. The Conference provided a suitable platform for research scholars, scientist, under-graduate & post-graduate students, faculty and industrialist for sharing of the original research work and acquiring of innovative thoughts.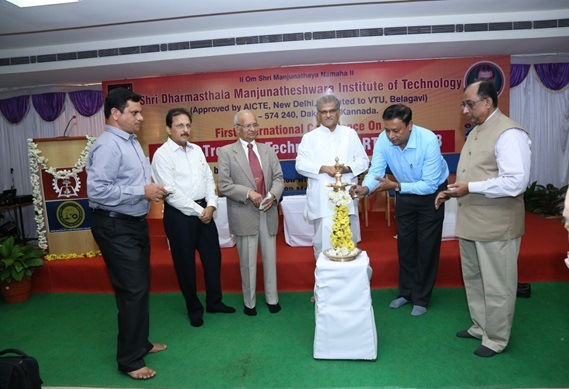 State level FDP on VTU Thesis and Research Paper Writing using LaTeX
A two-day FDP on "VTU Thesis and Research Paper Writing using LaTeX" in association with VTU e-learning center Mysuru was organized on 24th and 25th September 2018.The resource persons of the FDP were Dr. N.Haraprasad, Deputy Registrar, JSSSTU, Mysuru and Dr. B S Mahanand, Associate Professor, SJCE Mysuru. They shared their knowledge and experience with an effective presentation and hands on using Latex. Also covered VTU Thesis writing, preparation of Bibliography list, effective oral presentation, presentation skills, LaTeX template of IEEE, Springer, Elsevier. The hands-on session of LaTeX provided a real-time experience for the usage of LaTeX technology for the preparation of documents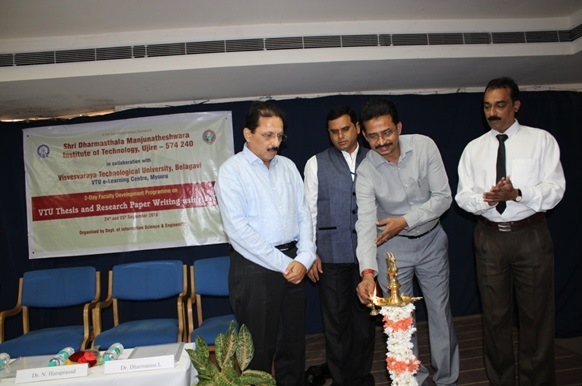 Industry Visit
An industry visit was organised to the company Nestsoft located at Kochi, Kerala on 29th March 2018 for the students of 6th semester. The informative session headed by Ms. Regina, Executive Member, Nestsoft organised a talk regarding Digital Marketing and Mobile Application Development.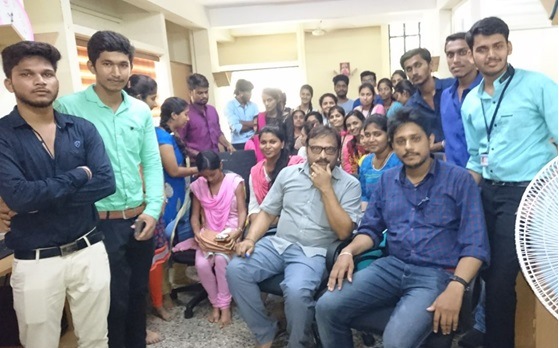 Workshop on Corel Draw and Photoshop
One day Workshop on "Corel Draw and Photoshop" was organized on March 10, 2017 for the students and staff of SDMIT, Ujire. The resource persons were Mr.Deekshith Y and Mr. Ramesh G, Designers, Manjushree Printers Ujire. The event provided the idea of designing the posters, banners, editing photos& text and designing the cover pages for students and staff.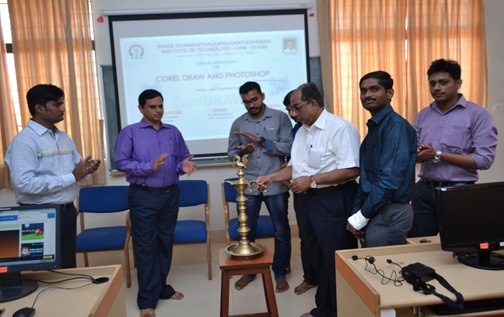 SDP on Personality Development and Communication
A two-day SDP on Personality Development and Communication was organized on 13th and 14th March, 2017 for the students of SDMIT. The resource person was Mr. Gundu Rao, trainer and orator, Bangalore. The SDP included the training on the communication skills and personality development of the students and enhanced their confidence
Technical talk on IoT and its Industrial Applications
A Technical Talk on "IoT and its Industrial Applications" was organized for the students of SDMIT on 16th October, 2017. The resource person was Dr. Geetha V, Asst. Professor, NITK, Surathkal. The talk comprised of introduction to IOT, the approaches of implementation, real time examples, and identification of several IOT projects for undergraduate students and with a demo of the IoT project.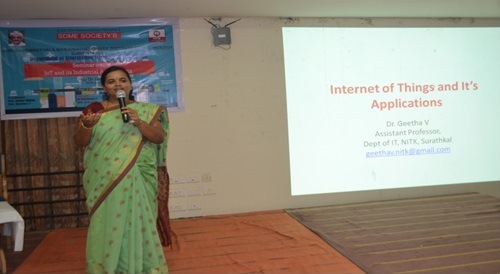 Talk on Living without Dental Disabilities
A talk "Living without Dental Disabilities" had organized on 21st November, 2017. Dr. M. M Dayakar, Professor & H.O.D, PERIODONTOLOGY, KVG Dental College & Hospital, Kurunjibag, Sullia D.K., was the resource person of the event. He spoke about reasons for dental disabilities and precautions. There were about 100 students and staff members of the department attended the session.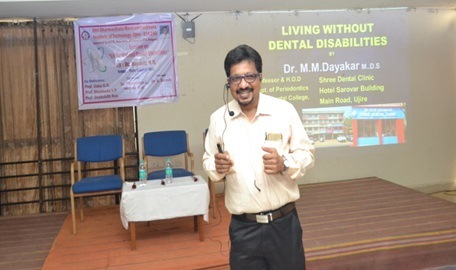 Two-day Workshop on Internet of Things,PHP and Python
A two-day workshop on "Internet of Things" & "PHP and Python" was organized on 4th and 5th April 2016 to the students of fourth and sixth semester of SDMIT, Ujire. The resource persons were Dr. Rajshekharappa and Mr.Mayur Patil, Department of CSE, SDMCET, Dharwad. The workshop trained the students on PHP, Python and Internet of things with hands on session for all the studentsand staff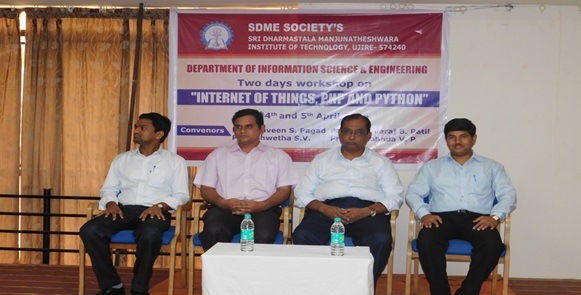 Future Trends in Data Communication, Networking And Security
A technical talk on "Future Trends in Data Communication, Networking and Security" was organized on 3rd November 2016. Dr. Nagesh H. R., Dean(Academic), Professor, Dept. of Computer Science & Engineering, MITE, Mangalore was the resource person of the event. He spoke about the concepts of cloud computing, Bigdata, Communication, Networking. There were about students and staff members of the department attended the session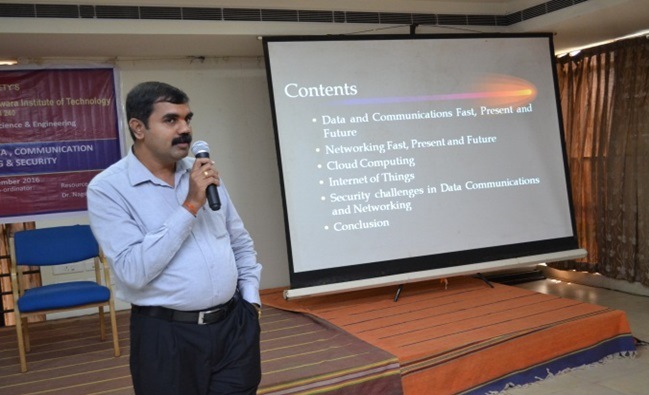 Teaching Staff
Sl. No.
Name
Qualification
Designation
Experience (years)
UG
PG
Ph.D
T
R
I
1.
Dr. G.P. Hegde
BE
M.Tech
Ph.D
Associate Prof. & HoD I/C
25
–
–
2.
Ms. Shobha
BE
M.Tech
–
Assistant Professor
24
–
–
3.
Ms. Usha G.R.
BE
M.Tech
(Ph.D)
Assistant Professor
10
–
–
4.
Mr. Naveen S. Pagad
BE
M.Tech
(Ph.D)
Assistant Professor
10
–
–
5.
Mr. Harsha.
BE
M.Tech
–
Assistant Prof.
03
–
–
6.
Ms. Ashwini B
BE
M.Tech
–
Assistant Professor
01
–
–