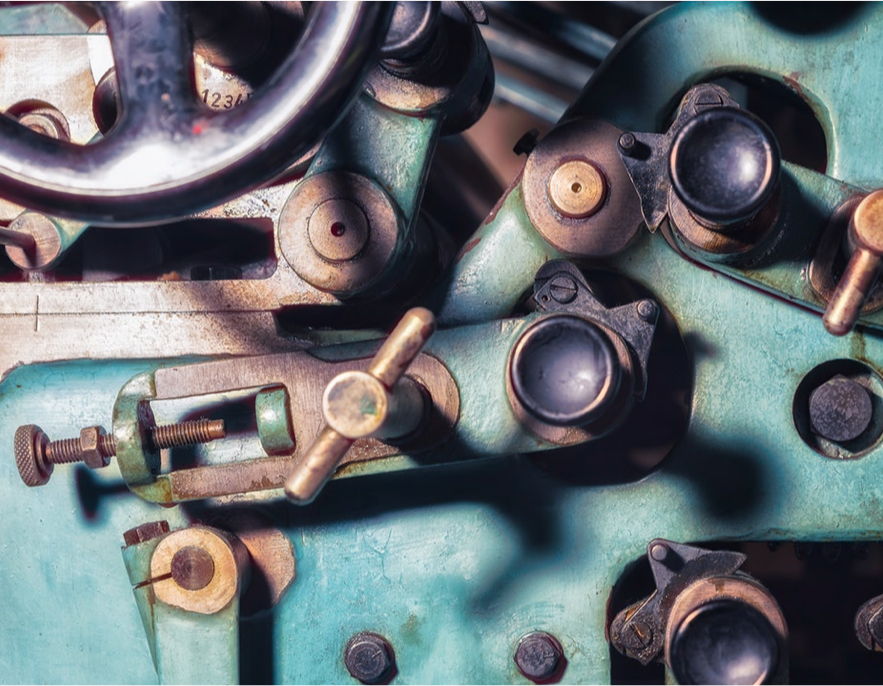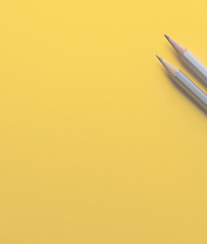 About
The department of Civil Engineering was started in 2012.The department has carved its name in the areas of academics, consultancy, research and community service. Six faculty members are pursuing research in advanced areas of civil engineering. The department is actively involved in conducting workshops, site/field visits, survey camps, projects for sharing and spreading latest developments in the field of civil engineering. Specialized labs and programs like Advanced Surveying, Construction Material and Concrete Testing provide students with appropriate practical exposure.
Why Civil Engineering at SDMIT?
Civil Engineering department is the oldest branch, holding maximum experience in imparting quality education in the subject. The department flaunts an exquisite list of successful alumni.

Students can experience learning in an infrastructure conducive environment.

Students can opt their career as a designer, entrepreneur, administrator, or opt galore of opportunities facilitated by the department.

ICT oriented teaching and experimentation methods are employed.
Mr. Manjunatha, Mr Shashidhar H and Mr. Siddesh P, of 4th Semester BE Civil Engineering, participated in Tantragyaan -2016, a National level Technical Symposium, organized by Dept. of Construction Technology and Management, SJCE, Mysuru, held on 6th and 7th April 2016 and secured 2nd place in one of the team Events.
Kavyashree B.M. of III Year Civil Engineering got selected for the National Level Wrestling Tournament based on her performance in the VTU inter-collegiate single zone Wrestling Tournament held on 19th and 20th October 2015 at Koramangala Indoor Stadium, Bangalore.
A final year student project group was selected for the financial assistance from Visweswaraya Technological University Belagavi, from FOSS cell. Before this, Mr. Mushtaq Ahmed and Mr. LomadaSathyakiran Reddy, representing this team presented their work on Floodplain Analysis of Nethravathi River Basin at the FOSS competition held at VTU Belgaum on 9th May 2019.
Field visit to Varahi Underground Power House
One-day Field Visit was organized to Varahi Underground Power House and to the sites of Mani Dam on 28-02-2018. The objectives of this education trip were to address: the concepts of impact of jet, followed by impulse Type-Pelton and reaction type-Kaplan turbine, uniform and non-uniform flows.
Building bridges
Students of 6th semester, Dept. of Civil Engineering, had visited a bridge construction site, Hiriyur Taluk, Chitradurga District on 22nd January 2019. Students were able to understand the planning, construction considerations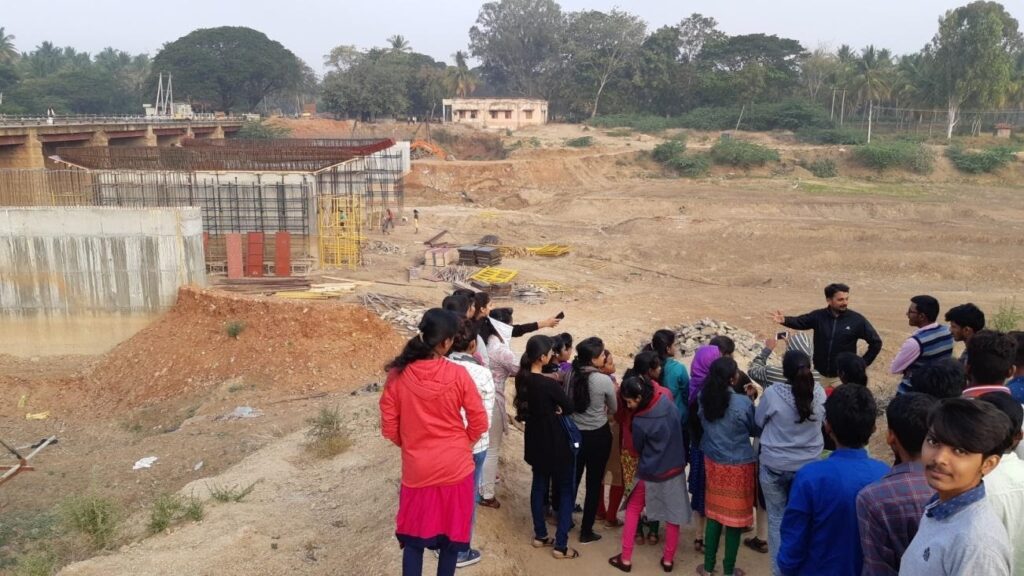 Inspecting dams
Students of 6th semester, Dept. of Civil Engineering, had visited a dam site-Vani Vilasa Sagara, Marikanive, Hiriyur Taluk, Chitradurga District on 22nd January 2019. Students were able to appreciate the planning, construction considerations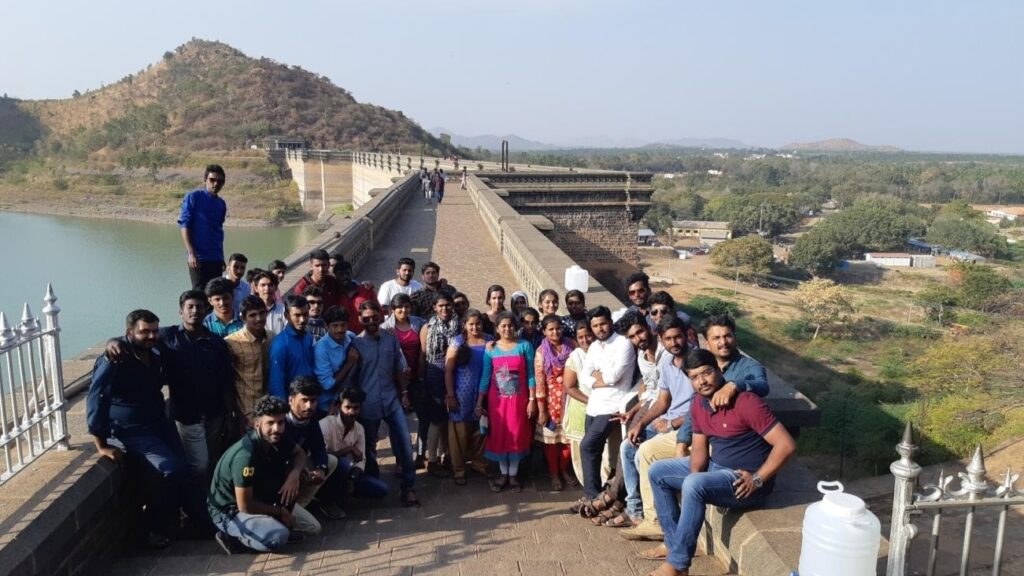 Workshop on CYPE software
A one-day workshop on CYPE software was organized by Departments of Civil Engineering for the students of 6th semester on 23-02-2019. Mr. Amaranath, Structural Engineer of CYPE CAD, was the resource person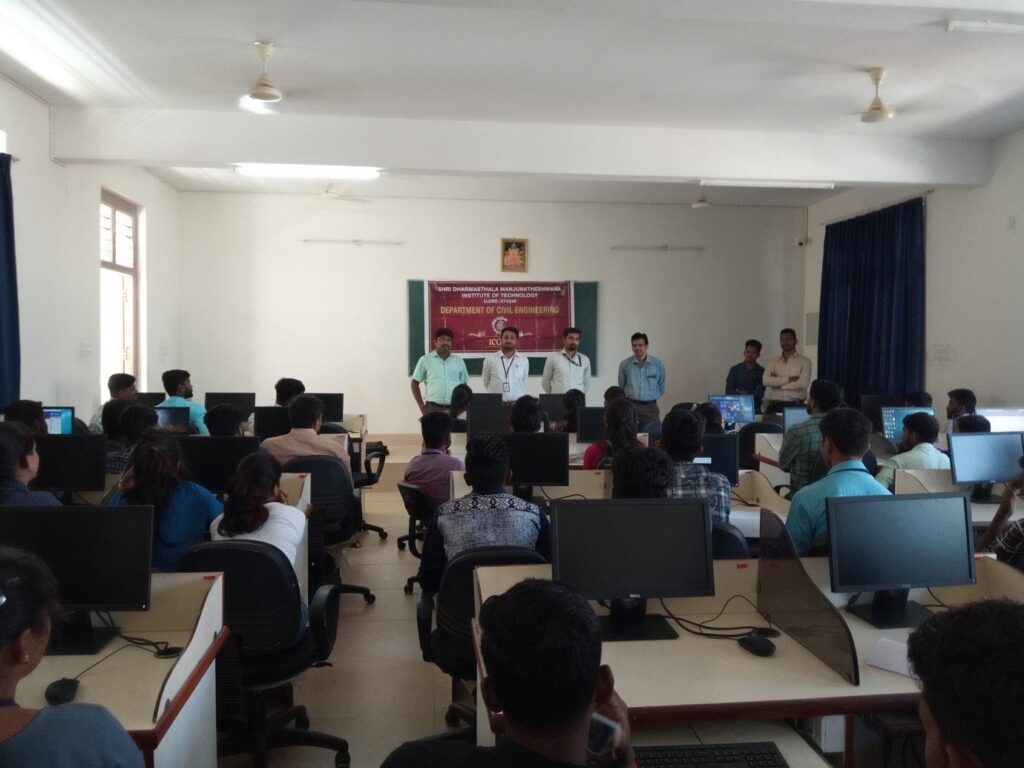 Earthquake resistant structures
On account of Engineers week, Technical talk on "Earthquake resistant structures" was conducted to Civil Engineering students on 29th of March 2019. Dr.KattaVenkatramana, Professor, Dept. of Civil Engineering NITK Suratkal, was the Resource Person for the talk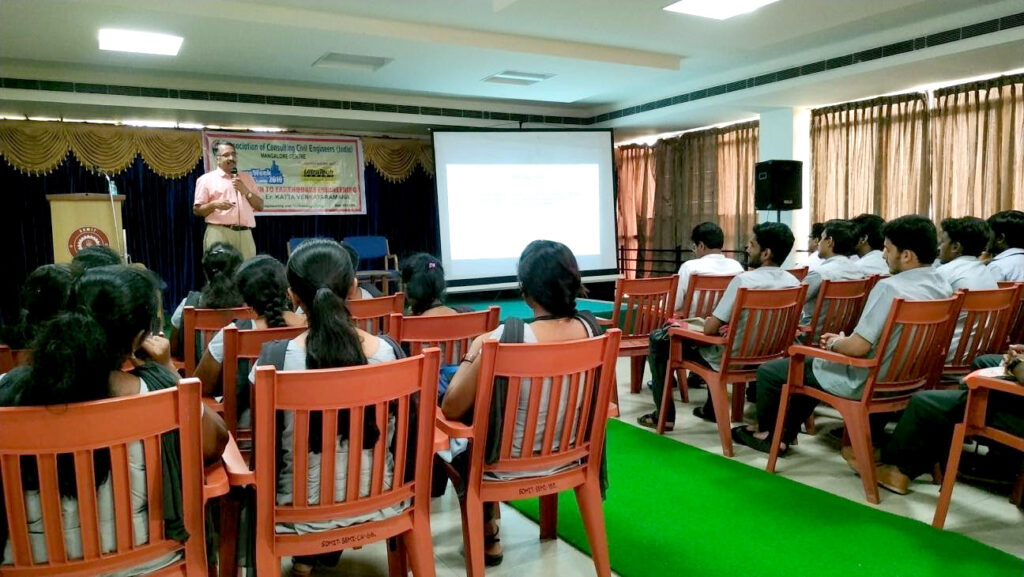 Construction safety
Department of Civil Engineering organized site visit for 5th semester Civil Engineering Students on 30th September 2019. In this visit the students learnt about construction safety, verified reinforcement detailing in various structural elements as provided in drawings and also witnessed bar bending work. This visit would help them in bridging the gap between field and academics.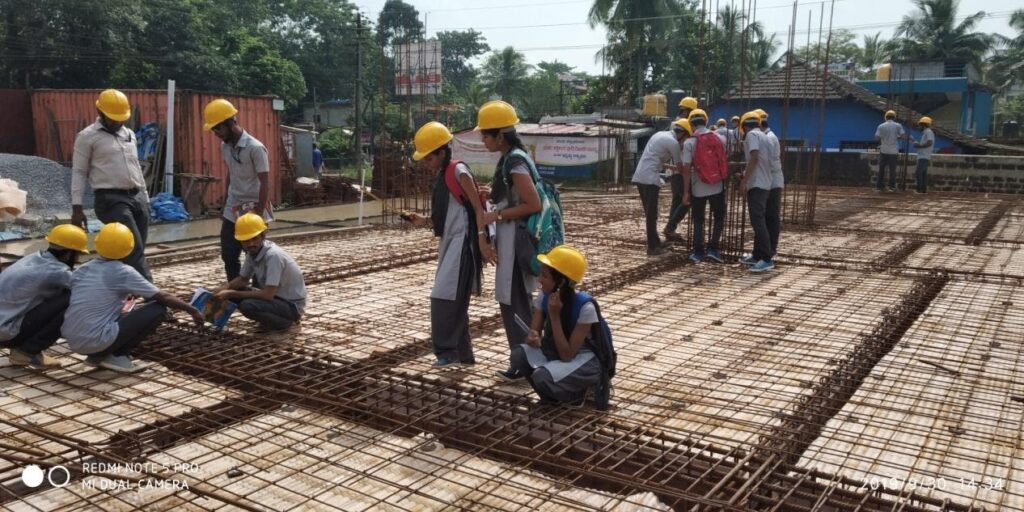 Understanding Yettinahole project
Students of V Semester, Civil Engineering Department visited one of the sites of Yettina Hole Project at Donigal, Sakaleshpur on 19th Jan. 2020. Students were briefed with the project, yield, weir and such kind of specifications.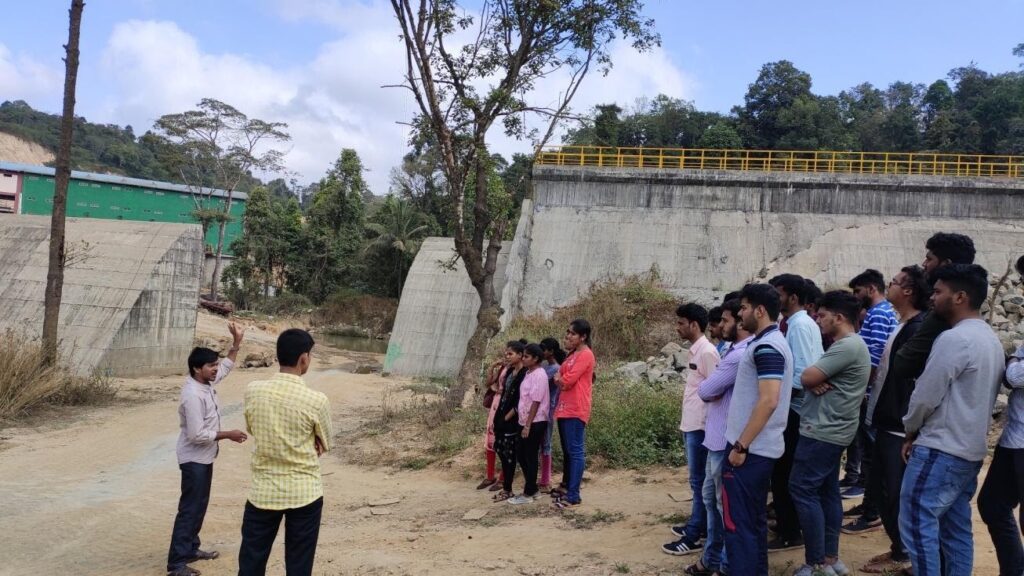 Techno week
Department of Civil Engineering in association with Association of Consulting Civil Engineers Mangalore centre and Ramco Cement Limited organized techno week technical talk program for students of final year on 27th September 2019. Two technical talks 'Modern trend in airport and air transportation system: an overview' by Dr.AjithHebbar and 'Prestressed Concrete' by Dr.PoornachandraPandith gave glimpse of knowledge in the relevant field.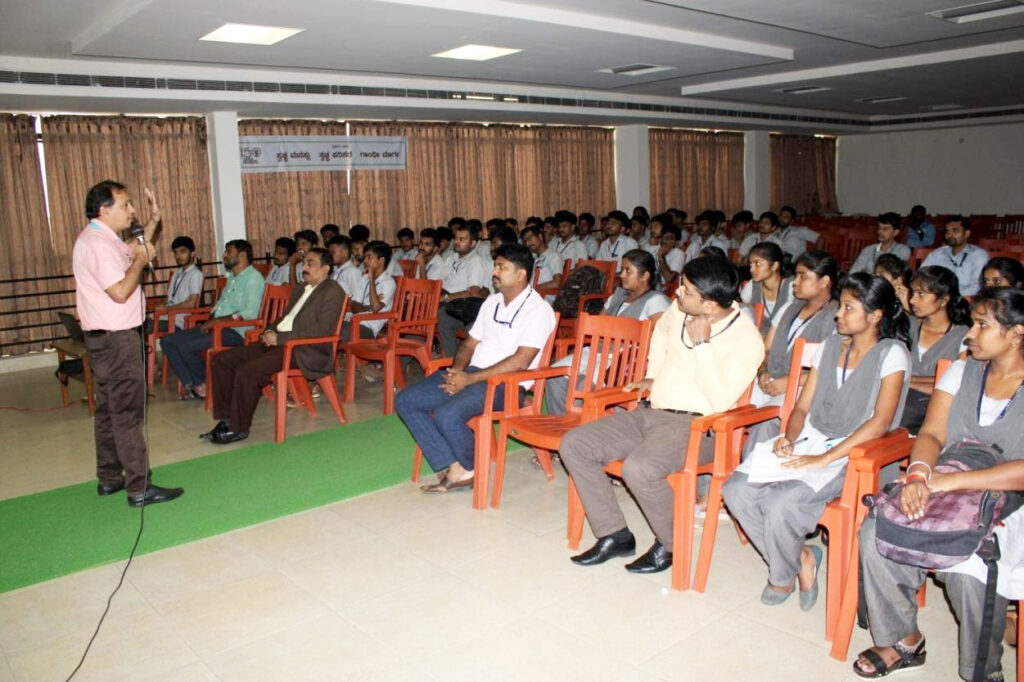 Practical aspects of Civil Engineering
Department of Civil Engineering conducted Survey Camp for B.E 3rd year students of Civil Engineering successfully from 19th to 27th January 2020 at Sri Revannasiddeshwara betta, Tiptur. This camp was aimed to groom civil engineering students with essential knowledge and exposure to the real work, and to encourage leadership and teamwork skills. This survey camp resulted in encouraging and supporting students, emerging as leaders in several areas ofacademic provision.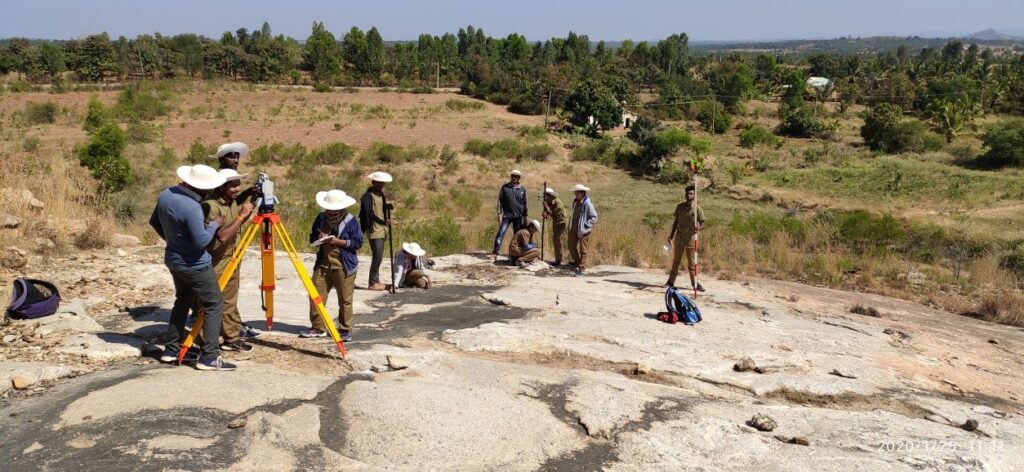 Teaching Staff
Sl. No.
Name
Qualification
Designation
Experience (years)
UG
PG
Ph.D.
T
R
I
1.
Dr. Raveesha P
B.E.
M. Tech.
Ph.D.
Associate Prof. & HoD I/C
10
–
–
2.
Dr. Krishnaprasad P.A.
B.Sc.
M.Sc.
Ph.D.
Associate Professor
7
6
–
3.
Mr. Vinay M.R.
BE
M. Tech.
(Ph.D.)
Asst. Professor
8
–
–
4.
Dr. Vinaya Shyam D
BE
M. Tech.
Ph.D.
Asst. Professor
9
–
3
5.
Mr. Ramprasad D.S.
BE
M. Tech.
–
Asst. Professor
8
–
1
6.
Mr. Subrahmanya R. Sharma
BE
M. Tech.
(Ph.D.)
Asst. Professor
5
–
2