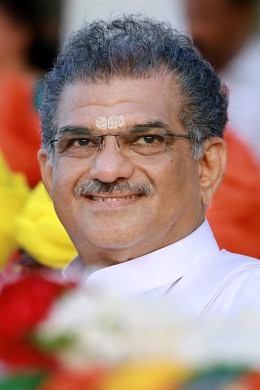 Dharmaadhikari, Reformer, Educationist, Philosopher and Philanthropist, Dr. D. Veerendra Heggade is a multidimensional personality. What truly defines Dr. Heggade's contribution is his determined and consistent service to the nation. As the president of the SDME Society, he is the guiding spirit and driving force behind the institution. Most importantly, he has shown that one individual has the potential to change and evolve himself as a social reformer in a nation of one billion. And rightfully, Dr. Veerendra Heggade was awarded the second highest civilian award of India, Padma Vibhushan in 2015.
The Heggade Chieftains at Dharmasthalaare in themselves a historic attribute that is unmatched elsewhere in India. The position of 'Pattadhikaari' holds religious, political, administrative, legal and developmental importance, which has been carried out to perfection to every man who has been coronated to it. The current Pattadhikaari has sustained the same age-old legacy to the extent of drawing national and international attention towards Dharmasthala.
Dr. D Veerendra Heggade succeeded his father Late Shri Rathnavarma Heggade to the position at a tender age of 20. It has been 51 years since, and his accomplishments speak volumes of his personality. In recognition of the same, a well-deserved Padma Vibhushana Award was awarded to him in 2015 by the Central Government of India.
As the President of SDM Group of Institutions, Dr. Heggade sets examples of what the education sector must look like. Rural development, women empowerment and entrepreneurship have been redefined in the area with his dream projects of SKDRDP. A stern master, he ensures that his visions are brought to life beyond expectations and with maximum positive impact.
On a personal level, you would connect to Dr. Heggade as you would to a child. While his ardent disciplines make him divinely different from commoners, his willful ventures towards social betterment make him one of us. In all, Dr. Heggade is an epitome of what an individual can be when disciplined by self and directed towards world welfare.